Discovering Team Effectiveness
Insights Discovery "Team Effectiveness" Program
Engage your team in a deeper exploration and understanding of their strengths, weaknesses, blind spots and colour dynamics. Brainstorm solution's to the most critical issues, how to access untapped potential and achieve their collective goals for success.
---
Do you want to:
focus on the issues and challenges most critical to your teams success?
be more aware of your teams key strengths, weaknesses and blindspots?
create space for more open and honest dialogue within the team?
overcome a major obstacle that is holding the team back?
develop team action plans for continuous team improvement?
Discovering Team Effectiveness is the next step in development for intact teams, designed to explore their strengths, weaknesses and colour dynamic in more depth. The Insights Team Effectiveness model introduces a valuable framework for assessing how effective a team is in four key areas of functioning: Focus, Flow, Climate and Process.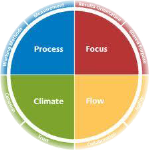 This assists the team identify and focus on the most pressing and important issues and challenges for their development. Your team will leve re-energised and able to confront problems they have been struggling with in a positive, practical and engaging way.
Program Overview
---
Insights Discovery® – An Introduction
The Insights Discovery® Personal Profile
How you view your team
Insights Discovery® Colour Energies
Strengths within the Team
Team Dynamics
Your value to the Team
Adapting & Connecting within the Eight Types
Communication within the Team
Team Effectiveness model
Your Ideal Environment
Assess your Team Culture
Team Commitments
Our approach is high energy, interactive and fun. We also encourage reflection and group discussion to allow a clear action plan to be developed.
Duration
---
This program is a follow-up to the Insights Discovery® Personal Effectiveness Program and can be delivered in a half to full day format. Options also include follow-up coaching.
Audience
---
Suitable for in-tact teams that want a deeper understanding of their Team colour dynamic and how to further improve rapport, relationships and productivity.